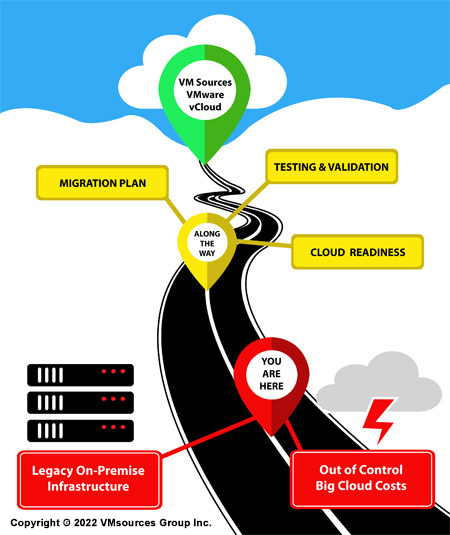 Are you hosting your own on-site IT Infrastructure and feel as though it's a never-ending battle of increasing costs and countless problems? Want something much better?

With our Secure Cloud, you can forget about managing hardware, firmware, VMware vSphere and storage, and turn your attention to higher value projects!
VMsources Secure Cloud is now located in both the US-EAST and US-WEST compute zones allowing us to provide geographic low-latency and rapid DRaaS failover, all with guaranteed TCO and a 5 Nines SLA. Furthermore, you don't need to choose just one zone, services can run concurrently on US-WEST and US-EAST.
VMsources Secure Cloud has two major advantages you will not find in the Big Cloud: Rapid Service Response and Guaranteed TCO. VMsources is already known for our unbeatable service and our guaranteed TCO
means that you will know what your Cloud will cost for the life of the contract
, and if you grow, you will know what that will cost as well!
Few organizations actually prepare or receive a true Roadmap to the Cloud before beginning a migration.
As a result, Big Clouds end up costing hundreds of percent more than anticipated.
Let VMsources create a free Roadmap to our Secure Cloud, detailing every step along the way along with the results you will achieve when you arrive. Will be sure to assess your current systems for readiness, create and implement a fully managed migration plan, and then test and validate your systems before going into production with a guaranteed 36 month TCO!
Plan for the future of ITSM in your orginization with a free Roadmap to the VMware vCloud.
Cloud Readyness Assessment (Current systems, networking and Security)
SLA requirements analysis
Accurate quote and guaranteed TCO for your environment on our VMware vCloud
Detailed Migration plan (that VMsources will manage fully if you chose our vCloud)
Testing and Validation of your systems in the Cloud and proior to production
Full transition to the VMware vCloud for production workload.