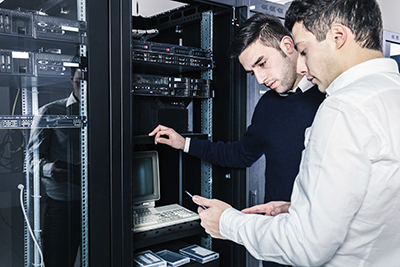 How much do you really want to know about Information Technology Infrastructure? Do you sometimes think it's just too overwhelming to get down to the nuts and bolts of IT Infrastructure?
That is precisely our job, so let us help!
Our comprehensive expertise in designing and building infrastructure from the ground up. both on premises and in the cloud, will surprise you in all the right ways. We know how this stuff really works, and how to put it all together and make it do whatever you want.
If there is a solution--any solution--we can provide it. And if there is no solution, we can build it for you.
Out Infrastructure Portfolio includes:
Our complete consultancy opportunity includes any level of engagement you require. We can also take on majority responsibilities with any aspect of your project. How big do you need us to go? There is no limit to our capability, and we know that's the same outcome you want for your business.
Please give us a call when it's time for:
Exploratory and Concept Meetings
Budget Identification
Quote or RFP Presentation
Implementation Planning and Training
Installation
Config
Management
Our Team includes a robust ecosystem of partners and world class emphasis-experts. We can help you create your plan and get your project accomplished on time and within budget.
Every time.