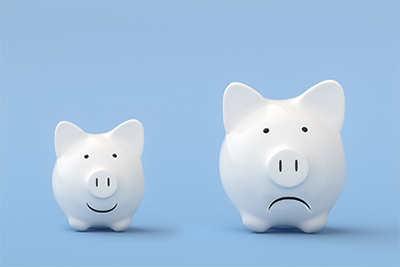 By now you know the Big Cloud always costs more than you expect--and they know it too. Even when you pull out all the stops to create the most accurate pricing estimate possible, there's simply never an end to the add-on costs or overage costs. And once you're in the Big Cloud, it can seem like you're trapped, always paying more and more.
There is a better way forward--a more convenient path to your cloud.
We have more than a decade of designing and delivering the best cloud infrastructure available, and we absolutely know our overall pricing comes in at about half the cost of the Big Cloud--but with much more proven availability and peformance.
The last thing you want to do is go back to The Corner Office, asking for more money, or appearing to not understand your own budget needs.
So before you jump on the Big Bandwagon, please consider giving us the opportunity to prove our products and services cost only exactly what we promise they will cost, and which perform exactly the way we promise they will perform.
Consider the ongoing saga in Dallas:

"In 2015 the City of Dallas engaged with Microsoft for Azure cloud services under Council Resolution 15-1049. The CIS department brought forth the effort to begin cloud migration process of moving digital operational loads from the City's on-premises data centers to an "in the cloud presence." The cost estimate for cloud expenditures had been recognized to be $60,000 per year to take advantage of Azure's Hybrid Storage (Storsimple). Additionally, in 2018 the City provided an additional cost expenditure for an "express route" connection to reduce network latency and rapid data services to Azure. Subsequently, these costs had not been renegotiated or presented for competitive bid to evaluate and optimize cost controlling estimations for cloud services.
In 2019, with changes to ITS management, ITS had a
$908,000 expenditure associated with Azure cloud services
. At that time an estimated 5% of the City's workload had been migrated to the cloud. In 2020, the workload had increased to an approximate 10%, with an increase to $1.8 million in expenses. Subsequently in 2021, the City had an approximate $122,000 monthly cost, which exceeded the cloud expenses beyond its expected $100,000 per month budget. Whereas in 2021, that workload had decreased to 7% of IT services."
--City of Dallas ITS 2021 Report