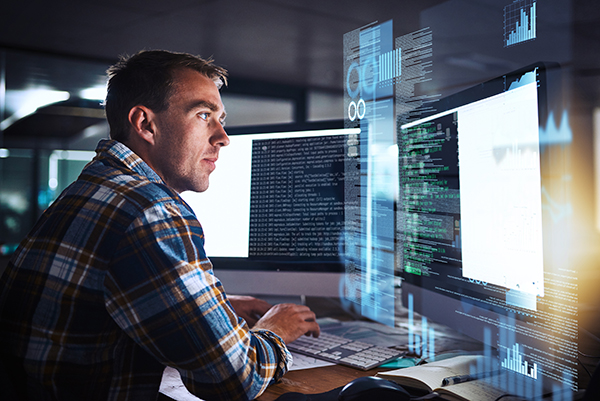 When it comes time to hire or replace IT personnel, let VMsources be your IT "person" with our dedicated MSP services! There's no need to pay $80K+ per year for a FTE, when VMsources can do the job in a fraction of the time, for a fraction of the cost.
Consultants are available right now to provide Managed Services for any level of engagement, from occasional help & support to full-time Infrastructure management for VMware vSphere, Hyper-V, networks, firewalls and more.
VMsources has over 10 years experience in designing, implementing and supporting efficient, reliable and IT Systems for our clients. We understand how sensitive your data is, and the difficulties associated with changing IT services vendors, so so we want to make sure that you get to know the team who will be managing your critical information and systems.

Our client managers are all multiply-certified technicians who will quarterback your account and coordinate both Change Management and ITSM, assigning or engaging specialists as needed.

No matter if you are looking to free up some hours for your IT staff, or need to replace one or more positions entirely, we have the expertise to step in and bridge the gap.
Skills:
Active Directory
Users and Passwords
Office 365
Exchange
SharePoint
Cisco
SonicWALL
VMware
Hyper-V
Veeam
Windows Server
Microsoft IIS
pfSense
Red Hat Linux
Ubuntu Linux
Apache
MySQL/MariaDB
PostgreSQL
Certificates / SSLs
LAMP
Asterisk
PIAF
FreePBX
Helpdesk
Nextcloud collaborative server
VoIP
Much, much more.
Service Plans and Advantages
We realize every Organization and every user is different, so our plans are only guidelines:
Infrastructure
| | Infrastructure | Infrastructure+ | Full-Stack Total ITSM |
| --- | --- | --- | --- |
| VMware vSphere | | | |
| Hyper-V | | | |
| IP Storage, SAN, Hyperconverged SAN | | | |
| Disaster Recovery | | | |
| Networking | | | |
| Enterprise Firewall | | | |
| Backup and Replication | | | |
| Archival, GFS and Air-gapped backup | | | |
| File-level restore | | | |
| Image-level restore | | | |
| Application-item restore | | | |
Active Directory (AD) Administration
| | Infrastructure | Infrastructure+ | Full-Stack Total ITSM |
| --- | --- | --- | --- |
| Promote DC | | | |
| Create Domain/Subdomain | | | |
| Update Schema | | | |
| Configure MFA/2FA | | | |
| Group Policy Administration | | | |
| Password Policy | | | |
Active Directory (AD) User Management
| | Infrastructure | Infrastructure+ | Full-Stack Total ITSM |
| --- | --- | --- | --- |
| Manage user accounts | | | |
| Reset lost password | | | |
Exchange / Office / Office-365
| | Infrastructure | Infrastructure+ | Full-Stack Total ITSM |
| --- | --- | --- | --- |
| Mailbox Administration | | | |
| User/Mailbox creation | | | |
| Mailbox restore | | | |
| Microsoft Exchange Administration | | | |
Horizon View VDI
| | Infrastructure | Infrastructure+ | Full-Stack Total ITSM |
| --- | --- | --- | --- |
| Desktop Image creation | | | |
| Horizon View SSL | | | |
| Desktop deployment | | | |
| Desktop recompose | | | |
| Horizon View GPO | | | |
| Horizon View Persona Management | | | |
| Application Item support | | | |
| Horizon View Session Collaboration | | | |
Citrix VDI
| | Infrastructure | Infrastructure+ | Full-Stack Total ITSM |
| --- | --- | --- | --- |
| Citrix Delivery Controller | | | |
| Citrix Storefront | | | |
| Citrix Application Database | | | |
| Citrix Application Server | | | |
| Citrix Gateway & Netscaler | | | |
| GPO for Citrix | | | |
| Hosted Citrix Cloud | | | |