Disaster Recovery as a Service DRaaS is a combination of Service Levels designed to protect your mission-critical data and services. VMsources can have your entire IT infrastructure protected in less than a week! Give us a call and we'll schedule you right away!

Our DRaaS Private Cloud is designed from the ground up to provide the highest level of Business Continuity attainable anywhere, and with one important goal: to protect your data. From best-of-breed servers to fully redundant infrastructure, VMsources Cloud provides effective, verifiable White Glove Disaster Recovery solutions customized to suit our clients specific needs

We don't seek to over-simplify the true nature of Disaster Recovery; it's just that we have already solved the problems, licensed the products, and have our proven solution in place.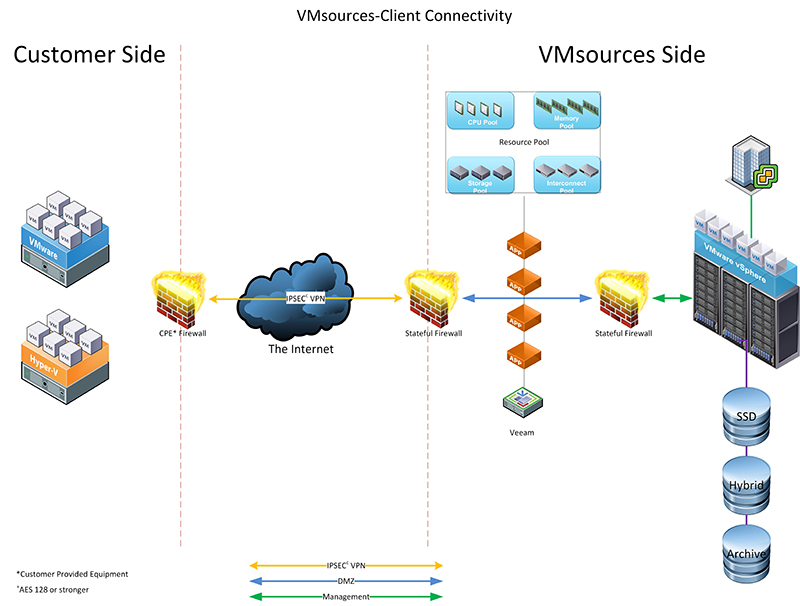 One of the most important aspects of VMsources' Disaster Recovery is our ability to exactly replicate your entire production network. Our disaster recovery plans allow you to run all of your protected servers and desktops as they are, without changing IP addresses relative to one and other.
VMsources VPN appliance insures efficient and secure transmission of data over any internet connection.
VMsources has disk-based solutions with FedEX – no bandwidth required!
VMsources partners directly with Veeam so we can utilize their replication technology which features inline compression and deduplication so you get faster R.T.O. and reduced bandwidth consumption!
With all of the resources we already have in place, and all of the processes we have licensed and mastered; we could literally, seed the data today [2] and by tomorrow night you would have a White Glove Disaster Recovery plan in place!
Here's how Disaster Recovery works:
VMsources White Glove Disaster Recovery specialists come to your facility to prepare an initial "seed" of all the Servers/VMs/Computers that you would like to protect.
While we are at your facility, we create a VPN connection from your location to our datacenter.
We transport your data (in our custody – not by common carrier) to our secure datacenter facility.
VMsources will upload your data to dedicated SAN storage.
We establish scheduled replication with Veeam Backup and Replication.
We provide you a username and password to your private Veeam Server (on your side of the VPN or ours! Best Practice: Veeam Server on DR side), along with training on how to run or test your DR plan.
When you test your DR plan, or in the event of an actual disaster, your protected Servers/VMs/Computers will power up relative to one and other, just as they are set up to be – no IP reconfiguration on the servers themselves!
VMsources can help you update your public DNS, or we can help you automate the process of updating DNS in the event of a disaster.
Technical Advantages of Disaster Recovery with VMsources
10 Gigabit Port on a dedicated fiber loop

100% optical connection to the Internet Backbone
42 ms. Intra-USA latency (Guaranteed by Cogent SLA)
99.9995% Uptime

Unique, isolated and firewalled network(s)

Port forwarding configured & tested in advance
Geographic Advantages
Nationwide Compute and DRaaS nodes.
Tier 4 Datacenter
100% Facility SLA
Service Advantages
VMsources will create the VPN (equivalent to MPLS) and guarantee latency/throughput
We will assist with initial replication – "seeding"
VMsources will monitor/maintain DR side of the house