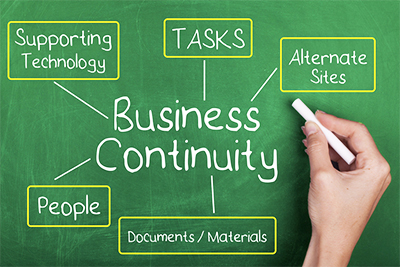 Is your business correctly postioned to ensure Complete Business Continuity when things go wrong? Becasue everything is always sunshine and roses--until it isn't.
We will help you create a Custom Business Continuity Plan and culture that suit your exact needs and goals. Our Business Continuity Solutions will provide your organization all the tools you need to protect your data, keep your networks secure and available, and combat any threat--no matter what.
Think of it as a roadmap to your peace of mind.
Our Comprehensive Intelligent Security approach includes:
Identifying and documenting every necessary task and how to accomplish it along each step of the process
Defining offsite and backup locations and provisioning
Creating your Custom Plan and Support Documents
Specifying the roles and response actions of your Admins and Team Members
Deploying the most powerful and secure technologies available
Training and ongoing support
Your organization needs to be fully prepared for today's ever-increasing environment of threats and disruptions, including natural disasters, ransomware, equipment failures, or human-triggered events.
Doing nothing is no longer unacceptable. The risk is too great to leave your Business Continuity capability sulking around the practices of even just a few years ago. The modern business experience requires the modern bulletproof posture, and at VMsources we know what you need and how to help you provision resources that make the most sense for your needs, and your budget.
Our Intelligent Security approach offers you purpose-driven features and solutions that work within your overall IT mission and experience level, while empowering users to become more aware and productive--rather than simply implementing more procedures and layers between users and their productivity.
We're all in business to accomplish our goals and perform our work. And on the one hand, it's kind of nuts that there's always something or someone out there lurking whose seemingly only goal is to bring us down.
At VMsources we know the bottom line is, we just can't let that happen. Ever.
We're here to help. Our approach places you first in everything we provide. Our engagement favors you.
We are here to help you focus on the activities and taks that matter the most.