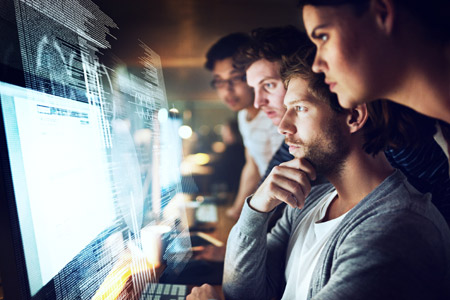 VMsources is a client-facing MSP and prime contractor for VMware and Hyper-V jobs of all sizes and scale. We always act as the client's advocate at every stage of the process to make sure that you get the IT Infrastructure that you really need. Call us now at (215) 764-6442 and ask for our reference list to see how pleased our clients actually are!
VMsources Consulting Advantages
1. VMsources will provide an accurate total budget for your project
Altogether too many jobs are quoted, leaving out critical (but expensive) items to sugar-coat the budget and close the deal! As an IT Director or Project Manager, the last thing you want is to have to go back and ask for more money!
When you engage VMsources as your VMware or Hyper-V contractor/consultant, we'll make sure you understand the true cost for a turn-key deployment of VMware vSphere by evaluating all of the quotes you have received from the vendors of your choice and making sure nothing was "forgotten."
Platform Licensing

Choose the right VMware vSphere or Microsoft Server edition for your enterprise and don't over-spend

Servers and Network

Capacity Planning
Highest-density usually equals the lowest licensing cots
Affordable 10GbE, 40GbE and 100GbE LAN solutions
Full soup-to-nuts deployment and implementation services
Long-term management and MSP

Enterprise Storage and SAN

High-speed SSD and Hyperconverged Enterprise Storage
Best-practices Enterprise Storage and SAN deployment and configuration
Enterprise Storage and SAN migration

Enterprise Network solutions

Leaf/Spine Network design and deployment
True network redundancy
Network planning for Availability
2. VMsources will right-size your VMware vSphere or Hyper-V Deployment
Far too often, vSphere and Hyper-V projects are sold with inappropriate licensing for the customer needs. Either the customer ends up paying for with features they cannot use, or lacking features necessary for mission-critical workloads. It is VMsources mission to act as the client's advocate at every stage of the process, so we'll recommend the correct platform, hardware and licensing model for your organization
VMsources will recommend the correct platform licensing for your VMware or Hyper-V Deployments which is most advantageous to your organization.
VMsources will recommend the most advantageous hardware or Cloud specifications for your VMware or Hyper-V deployment, refresh or Cloud.
VMsources will evaluate the long-term TCO of both perpetual licensing and Software as a Service (SaaS) rental models and recommend the most advantageous licensing model for your organization.
3. VMsources will design for scalability and ROI
VMsources understands the need to establish a true and realistic TCO for any project so that your organization can obtain the best ROI for any solution or Cloud deployment. When you engage VMsources, every component will be carefully selected and reviewed to guarantee the best long-term outcome and obtain true (as opposed to "predicted") ROI on your investment.
VMsources will select components and Platforms which have the lowest TCO, while meeting all of the required specifications
VMsources will make sure any solution is future-proofed by matching specifications with latest-generation Platform requirements
VMsources will design for scalability and agility by selection Platforms and components which are enabled in-place upgrades
4. VMsources provides full Knowledge-Transfer and documentation for every environment
Knowledge-Transfer and documentation can be a sticky-point with any job. VMsources believes in commissioning every project with comprehensive Knowledge-Transfer and documentation covering every Platform, component and configuration. On commissioning of every project or deployment, VMsources schedules a knowledge-transfer session which can range from several hours to several days, which serves not only to familiarize your IT personnel with the specific aspects of the project, but to actually provide platform training on the use and administration of the project or solution. VMsources documentation and Knowledge-Transfer goes far beyond the industry norms as we supplement vendor-documentation with real-world step-by-step instructions and examples right from your configured environment.
Full vendor documentation provided
Supplemental environment-specific procedures and manuals with specific examples
Runbook documentation of every component, configuration and username
Knowledge-Transfer training using the actual Platform or solution as deployed for your organization
5. You choose the billing model
VMsources will either quote one price for your entire project, or bill you time and materials. The advantage to one price is that it can be budgeted and approved in advance. VMsources will create a Statement of Work and Bill of Materials (BOM) for your review, then we do everything on the SOW and provide everything on the BOM, no matter what it takes! Plus, we guarantee never to go over budget and ask for more money! Time and materials works best for projects of an open-ended nature.
VMsources quotes Platforms, hardware and software as a service to our clients on a cost-plus basis, which usually results in the lowest cost to your organization
VMsources encourages competitive bidding on apples-for-apples components
VMsources will work with and advise accurately and fairly regarding competitors bids
We keep the costs down by flying lowest-cost coach to your site, renting economy cars (or using public transportation in major metropolitan areas) and billing M&IE according the GSA website, so you will know in advance!
6. Experienced and Certified Consultants on every job
We put our best talent front-and-center on every job! There are no slick "project managers" interfacing between you and your consultant/systems architect! Our Certified Consultants have a minimum of 10-years' experience with VMware vSphere, Hyper-V, Cisco, firewalls and more, and will act as your primary point-of-contact. Moreover, we never transfer you or your organization from the Solutions Architect who designed and implemented your Solution to an off-shore or call-center based support team. You will work with the same team of dedicated professionals for the lifespan of your project