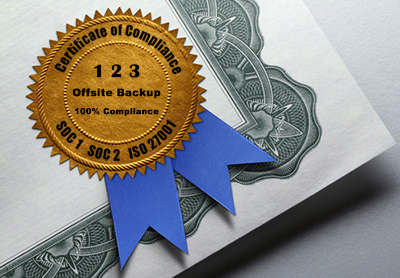 Secure Offsite Backups to VMsources Secure Cloud provide the best protection to Ransomware there is. Secure Offsite Backups will give your Organization the ability to recover rapidly from Ransomware when it strikes.
When you choose VMsources, you will benefit from our famous Concierge Service. That means that you CAN restore back to the original location OR you CAN convert directly to our Secure Cloud running VMware vCloud native systems and one of our BC / DRaaS Consultants WILL actually do the heavy lifting for you and remain online and managing the entire process. No Big Cloud will offer the level of service you will get from VMsources!
Plus clients will automatically receive a
Backup and Disaster Recovery Certificate of Compliance
.
Benefits of Secure Offsite Backup:
As easy as 1-2-3!
1

Secure Connection

A VMsources Business Continuity Consultant will guide you through the process of establishing a secure connection to VMsources using Veeam Cloud Connect or an IPsec VPN with best-in-class AES-256 encryption.
The whole process takes less than an hour!
2

Create Backup

Configure your Offsite backup job, or let your Business Continuity Consultant help you one step at a time.
Forward-incremental backups
Reverse-incremental backups
Long-term archive with GFS
Unlimited restore points
Consider adding
Replication
to attain Complete DRaaS Protection with a 25% discount on replication.
3

Restore at will

Restore your VMs, files, or application items whenever you want. You can do restores yourself, or just call your DR consultant for assistance!
Execute restores yourself
Do restores with VMsources assistance
Execute restores by opening a ticket or making a call from anywhere on earth!
Offsite Backup to VMsources is a simple and inexpensive way to achieve your Business Continuity goals and attain compliance with the 3-2-1 Backup Rule! Don't take our word for it, though. Take a look at this Department of Homeland Security document talking about the 3-2-1 rule.
VMsources has Offsite Backup and Disaster Recovery consultants available to get your entire IT infrastructure protected in as little as a week!


Offsite Backup Protection options:
Protect physical systems
Protect VMware, Hyper-V and Nutanix VMs
Incremental, Full and Grandfather-Son (GFS) Backup retention available
Unlimited restore points
Application-aware processing for SQL, Exchange and AD
Add a S3 Object Storage repository in your choice of zones: US-WEST US-MID US-EAST
Offsite Backup Recovery options:
File-level, Image-level and full VM Restore
Application item restore for: SQL Exchange, AD, Sharepoint
Restore to your original location
Restore to an alternate location
Or restore to our Secure Cloud and failover to VMsources in the event of an actual disaster
Offsite Backup may be combined with replication for comprehensive Business Continuity and Disaster Recoverty DRaaS protection.