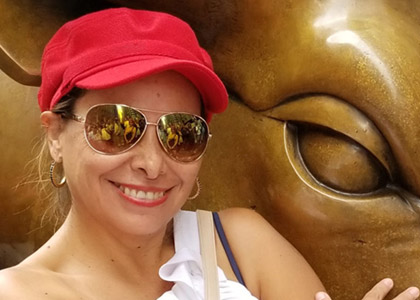 Elizabeth Salazar es nuestra especialista de mercado LATAM (América Latina y el Caribe). Elizabeth es originaria de Bolivia, pero emigró a los Estados Unidos para estar más cerca de su hija y sus nietos. Elizabeth tiene experiencia en Administración de Empresas, Comunicaciones y Justicia Criminal.
Se puede comunicar con Elizabeth en nuestra extensión de habla hispana a los siguientes numeros:
EEUU / CA +1 213 330 2345
EEUU / PR +(787) 389-5404
CDMX / MX +52 (558) 526-6854
Elizabeth Salazar is our LATAM (Latin American and Caribbean) market specialist. Elizabeth is originally form Bolivia, and migrated to the USA to be closer to her daughter and grandchildren. Elizabeth has a background in Business Management, Communications and Criminal Justice.
Elizabeth can be reached on our dedicated Spanish-speaking extension (se habla) at:
EEUU / CA +1 213 330 2345
EEUU / PR +(787) 389-5404
CDMX / MX +52 (558) 526-6854
This email address is being protected from spambots. You need JavaScript enabled to view it.